CURRENT NEWS
October 2018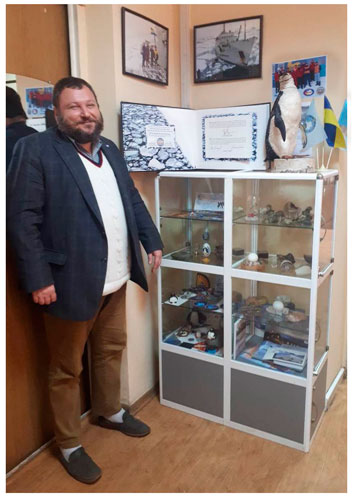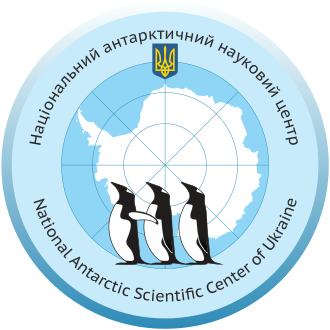 The National Antarctic Scientific Center of Ukraine upon receiving the Keoughs' ANTARCTICA stated: "For a while ANTARCTICA was in the office of our Deputy Minister Dr. Maksym Strykha. He is a real connoisseur of such editions, so he was so much delighted. And now the ANTARCTICA tome has taken a worthy place in the library of the National Antarctic Scientific Center of Ukraine and is ready to serve as an excellent exhibit at upcoming exhibitions, which will be organized by the Ministry of Education and Science of Ukraine and the National Antarctic Scientific Center."
Dr. Evgen Dykyi, Director, National Antarctic Scientific Center of Ukraine and Keoughs' ANTARCTICA
Photo Credit: National Antarctic Scientific Center of Ukraine
October 2018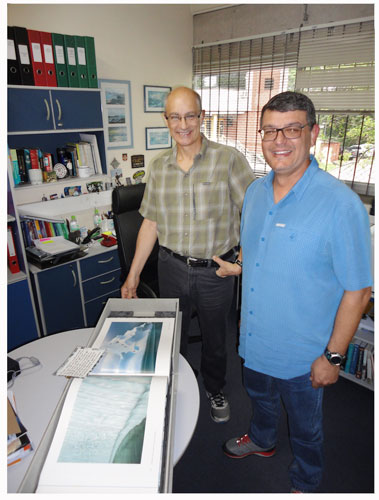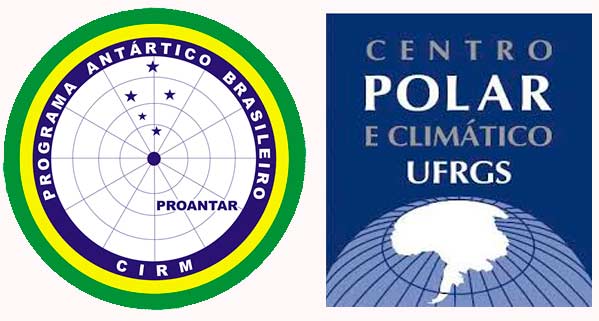 The Brazilian Antarctic Program which recently acquired ANTARCTICA has shared: "ANTARCTICA by Rosemarie and Pat Keough exceeds all expectations, in the quality of the photographs, and in the material used for printing and binding. The book is a work of art for exhibition in museums and libraries!" And in Portuguese: "ANTARCTICA por Rosemarie and Pat Keough excede todas as expectativas, tanto na qualidade das photographies, no material usado para impressão e encadernação. Um livro e uma obra de arte para exposição em museus e bibliotecas!"
(At right) Prof. Francisco Aquino, Director, Centro Polar e Climático, Universidade Federal do Rio Grande do Su, Brasil
(At left) Dr. Jefferson Cardia Simões Vice-President, Scientific Committee on Antarctic Research (SCAR/ICSU),
Centro Polar e Climático - CPC Instituto de Geociências, Universidade Federal do Rio Grande do Sul, Brasil
Photo Credit: Centro Polar e Climático
September 2018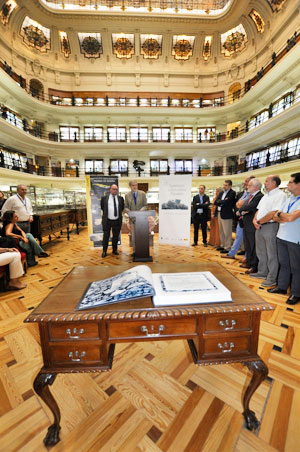 In Madrid on the occasion of Spain's IX Symposium on Polar Studies, the ANTARCTICA tome is formerly presented by Prof. Jerónimo López-Martinez, President, National SCAR Committee of Spain to Francisco González Lodeiro, General Director Geological Survey of Spain. This reception, attended by over 200 Spanish polar scientists, took place in the elegant Museo Geominero on September 6th. ANTARCTICA is now accessible to the scientific community and the public at the Geological Survey's historic library founded in 1849, where this valued tome is part of the permanent collections. (IGME-Instituto Geológico y Minero de España).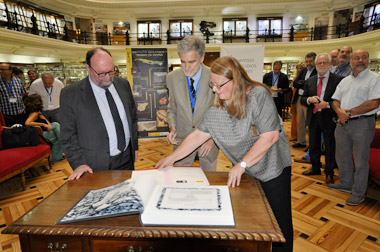 (above left) Francisco González Lodeiro, General Director, Geological Survey of Spai receives ANTARCTICA from
Prof. Jerónimo López-Martinez, President, National SCAR Commmittee of Spain and
Isabel Rábano, Head, IGME Department of Geoscientific Infrastructure and Services.
(above right) The official presentation of ANTARCTICA to the Spanish Geological Survey, Madrid.
Photo Credits: IGME-Instituto Geológico y Minero de Espana.
June 2018
ANTARCTICA is enthusiastically received by the Australian Academy of Science. Gwen Fenton, Chief Scientist, Australian Government, Antarctic Division was presented the Keoughs' tome on behalf of her country.
As posted on Twitter .... Gwen Fenton: "Great pleasure to receive this amazing book for the Australian Antarctic Division library @AusAntarctic recently in Canberra #SCAR #POLAR2018."
Australian Academy of Science: "Marveling at the amazing limited-edition 'ANTARCTICA' tome we have received. It's presented to all @SCAR_tweets National Committees as part of #POLAR2018."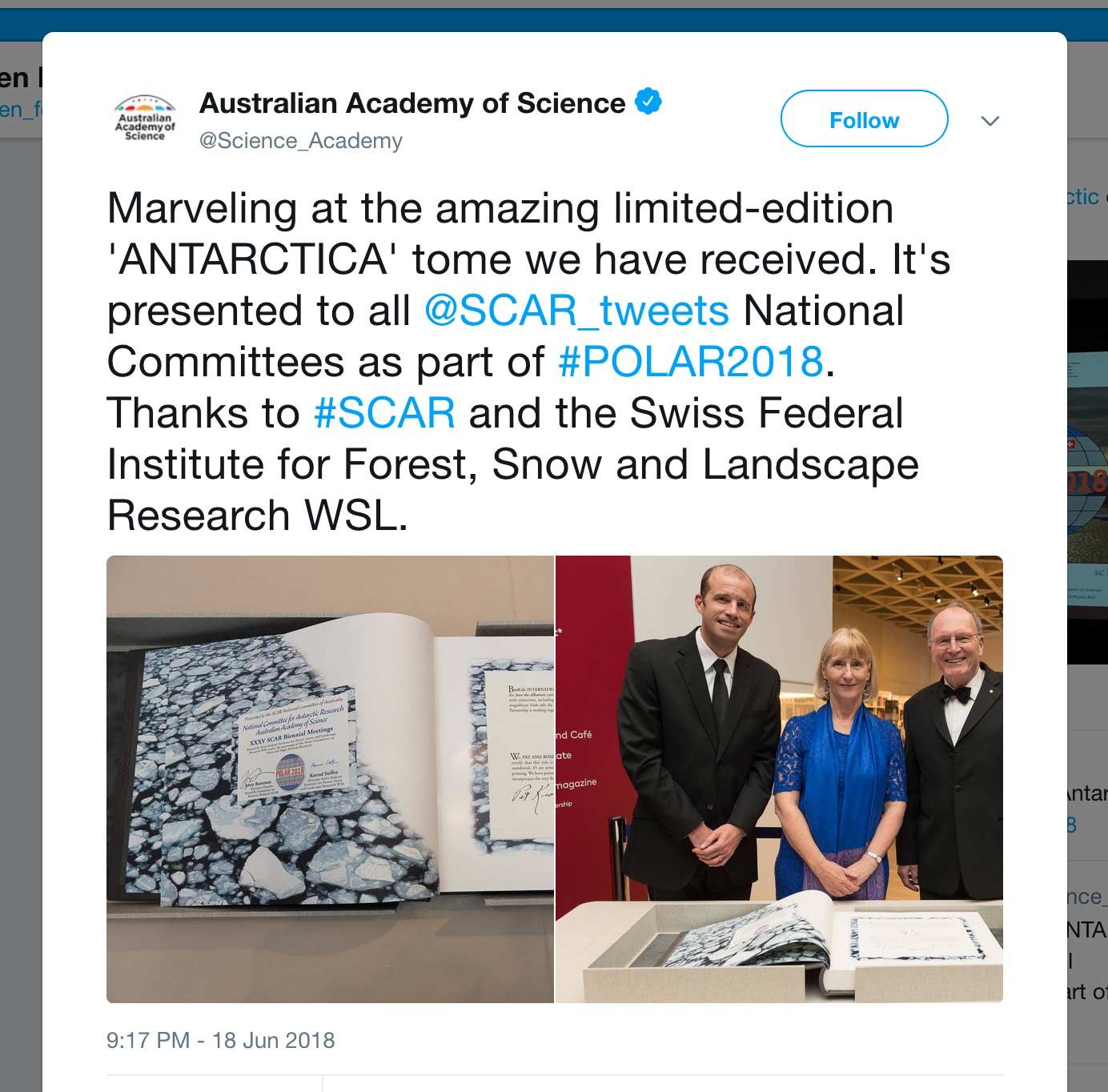 June 2018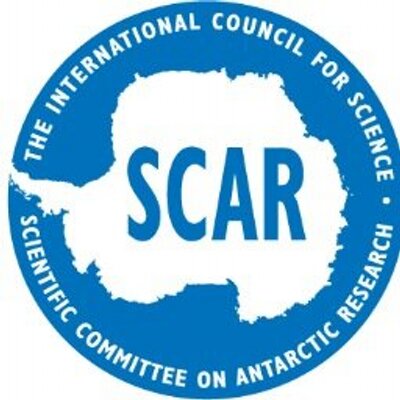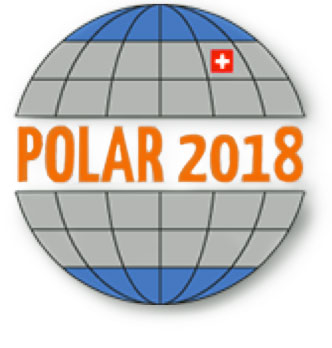 Davos, Switzerland ... "SCAR is honoured to acknowledge the Keoughs' tome ANTARCTICA as a unique, thoroughly researched and illustrated document of immense contemporary value, one which will be all the more important with the passage of time. A compelling and magnificent time capsule of the Antarctic." Prof. Steven Chown, President SCAR, the Scientific Committee on Antarctic Research, an interdisciplinary body of the International Council for Science. ANTARCTICA is the Official Book of POLAR2018 and the XXXV SCAR Biennial Meetings. At this unprecedented event which brought together over 2500 of the world's leading experts working in the Arctic and Antarctic, Pat and Rosemarie Keough presented a talk about their tome to SCAR Delegates. Specially dedicated copies of the Keoughs' ANTARCTICA were presented to each of the 43 SCAR member countries which support Antarctic research: Argentina, Australia, Austria, Belgium, Brazil, Bulgaria, Canada, Chile, People's Republic of China, Columbia, Czech Republic, Denmark, Ecuador, Finland, France, Germany, India, Islamic Republic of Iran, Italy, Japan, Republic of Korea, Monaco, Netherlands, New Zealand, Norway, Pakistan, Peru, Poland, Portugal, Romania, Russia, South Africa, Spain, Sweden, Switzerland, Thailand, Turkey, United Kingdom, Ukraine, Uruguay, United States of America, and Venezuela.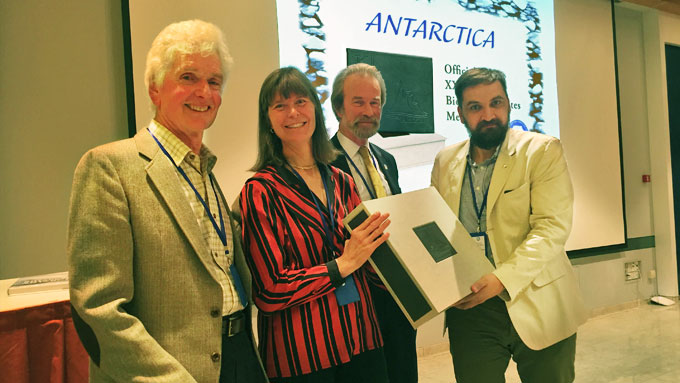 Pat and Rosemarie Keough together with Dr Konrad Steffen, Director, Swiss Polar Institute and WSL present ANTARCTICA to
Dr Aleksandr Makarov, Director, Arctic and Antarctic Research Institute, Russia. Photo Credit: Stephen Curtain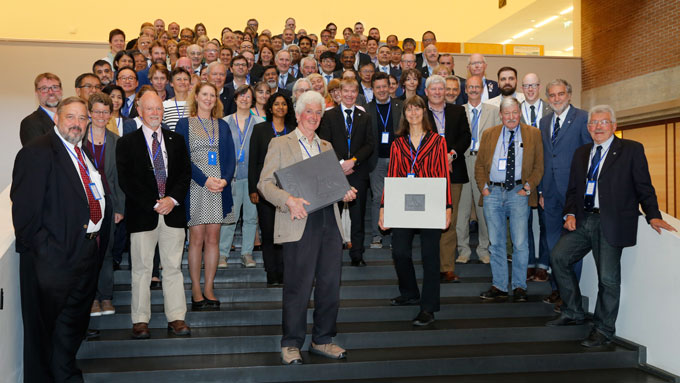 Delegates representing SCAR National Committees from countries worldwide acknowledge the Keoughs' tome ANTARCTICA as an important legacy. SCAR President Prof Steven Chown stands between Pat & Rosemarie, SCAR Executive Director Dr Chandrika Nath is left of Pat. Photo Credit: Stephen Curtain
November 2017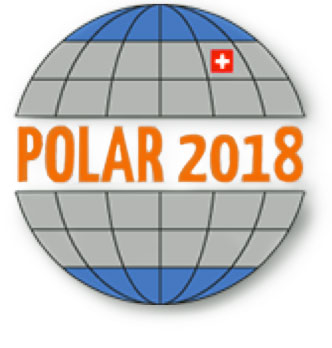 ANTARCTICA is the Official Book of POLAR2018. Hundreds of Arctic scientists and more than a thousand Antarctic scientists from around the world will convene for POLAR2018 in Davos, Switzerland, June 2018, to present their research and to plan future scientific expeditions. Pat and Rosemarie Keough are honoured that their tome has been recognized by SCAR (The Scientific Committee on Antarctic Research) and the international scientific community, an honour which complements the many accolades received from critics of photography, printing, and the bookarts.
December 2016
Pat and Rosemarie Keough's monumental tome ANTARCTICA was presented to HRH Sultan Mizan Zainal Abildin, Sultan of Terengganu and patron of Malaysia's YPASM, the Sultan Mizan Antarctic Research Foundation (SMARF). The presentation was made by Malaysia's Minister of Science, Technology and Innovation, the Ministry's Secretary General, and the CEO of the Sultan Mizan Antarctic Research Foundation. The tome acknowledges the relationship between Students On Ice and Malaysia's youth program for polar studies. As such the opus includes a special dedication to His Royal Highness autographed by HSH Prince Albert of Monaco in his capacity as Honorary Chair, Students On Ice Foundation, and by Geoff Green, Founder, Student On Ice. In August, also in Malaysia, Dr Jenny Baeseman, SCAR Executive Director and enthusiastic alumnus of SOI presented the Keoughs' ANTARCTICA at SCAR 2016, the biennial congress of the Scientific Committee of Antarctic Research attended by scientists and delegates from 43 member and associate countries.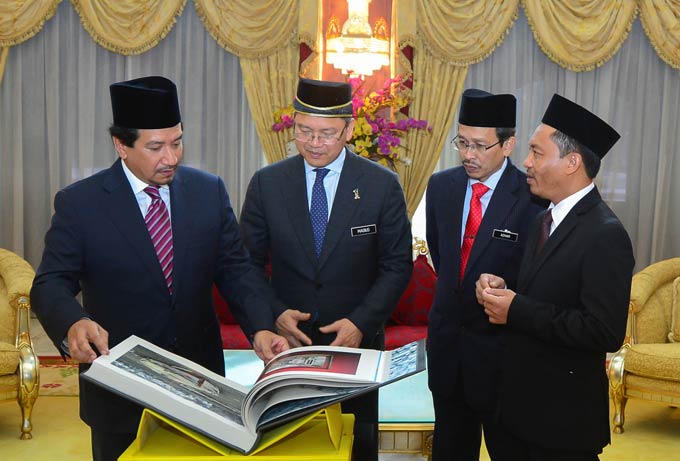 HRH Sultan Mizan Zainal Abildin, at left, Patron of Sultan Mizan Antarctic Research Foundation receives ANTARCTICA.
Centre left is Madius Tangau, Minister of Science, Technology and Innovation and Chairman, Board of Trustee, SMARF ;
Centre right is Mohd Azhar Yahaya, Secretary General, Ministry of Science, Technology and Innovation and Member, Board of Trustee, SMARF; and at right is Mohd Nasaruddin Abd Rahman, CEO, SMARF. Photo Credit: SMARF
November 2016
Museum of Fine Arts Houston annually hosts "One Great Night in November" for men only. During this spirited evening, gentlemen have the opportunity to contribute to the museum's permanent collection while enjoying the camaraderie of an old-time smoker.  Over fine wines, ports, and a great meal, black-tie guests vote on allocating the evening's proceeds toward works of art presented for possible acquisition by the museum's curators. The Keoughs' ANTARCTICA was thus acquired at "One Great Night in November, 2007" as a special gift by Houston's John Gaylord and Ted Gaylord in honor of their father, Edward Gaylord. More recently, Jon Evans, Director, Hirsch Library, Museum of Fine Arts Houston writes: "I regularly feature the Keoughs' ANTARCTICA when photo-related classes come to our library and it remains a title that piques the interest of students and faculty alike." Other instutions which have collected ANTARCTICA during this year include: in the USA, Denison University and the University of Washington; in Canada, Lester B. Pearson College; and in Malaysia, Sultan Mizan Antarctic Research Foundation.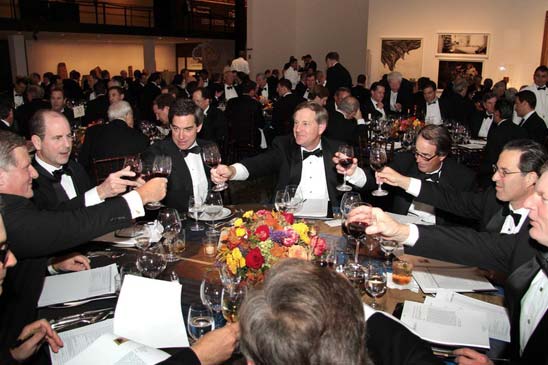 September 2016
Pat and Rosemarie Keough hosted the The Explorers Club Salt Spring Symposium, an inspiring three-day event founded by the Keoughs in 2004. Explorers passionate about their respective field of discipline came from as far as New Zealand and direct from activities in Mongolia, France, Gibraltar, and the Canadian Arctic. Stimulating presentations, 41 in all, are summarized by Explorers Club President Ted Janulis in The Explorers Journal (read it here). The Explorers Club is an international multidisciplinary professional society dedicated to the advancement of field research and the ideal that it is vital to preserve the instinct to explore. For their work in Antarctica and sub-arctic Canada, Pat and Rosemarie were elected as Fellow International of The Explorers Club in 2001. For contributions to the club, they were honoured as Sweeney Medalists in 2014. The Canadian Chapter presented Rosemarie with the Stefansson Award in 2007.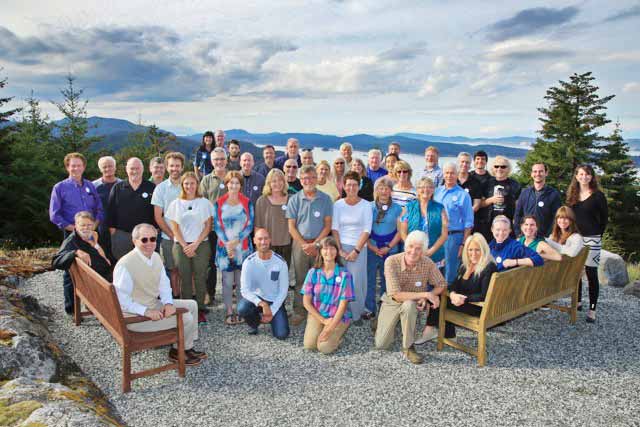 Explorers Club members at the Keough home, Salt Spring Symposium.
Photo Credit: Pat & Rosemarie Keough
August 2016
Scientific Committee for Antarctic Research (SCAR) is responsible for initiativing and coordinating international scientific research in Antarctica. At SCAR 2016 Kuala Lampur, the biennual Open Science Conference and Delegates Meeting, a very special presentation was made of the Keoughs' ANTARCTICA. The tome is dedicated by HSH Prince Albert II of Monaco along with Geoff Green of Students On Ice (SOI) for presentation to HRH Sultan Mizan Zainal Abidin. Sultan Mizan is Malaysia's patron of polar education and research, also founder of the Sultan Mizan Antarctic Research Foundation (SMARF). Jenny Baeseman, Excutive Director SCAR, made the official presentation of the Keough tome to Mr. Nasarudding, Executive Director, SMARF, on behalf of the Sultan. Among the sentiments shared in Baeseman's speech, the full text of which is downloaded here, is recognition of His Royal Highness's "visionary leadership in founding and supporting SMARF", also appreciation for the partnership of SMARF and SOI which engages Malaysian youth and teachers on educational polar expeditions. In relation to the Keoughs' work, she said, "This monumental volume has been created by Pat and Rosemarie Keough in a lifetime of dedication and contains the most stunning collection of photographic images of the Antarctic continent ever created. As such this internationally acclaimed, hand-crafted volume encapsulates the sublime complexity of Antarctica's eco-system that we all wish to understand and preserve for future generations."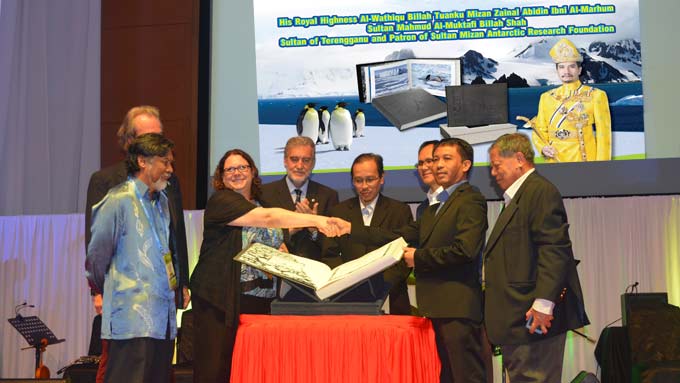 Presentation of ANTARCTICA tome by Ms. Baeseman to Mr. Nasaruddin on behalf of Sultan Mizan.
Photo Credit: SCAR 2016 Kuala Lumpur
April 2016
Denison University aquires the Keoughs'
ANTARCTICA
and gives a welcome surprise to Library Director BethAnn Zabella. BethAnn met the Keoughs at the Artists' Book Conference hosted by Wellesley College over a decade previous. Ever since she has admired this work – initially as staff at Wellesley, the college having purchased both
ANTARCTICA
and its custom bookstand, and in her new position where the tome was on her wish list. Thanks to her colleagues' initiative,
ANTARCTICA
is now available for students and faculty at Denison's Archives and Special Collections.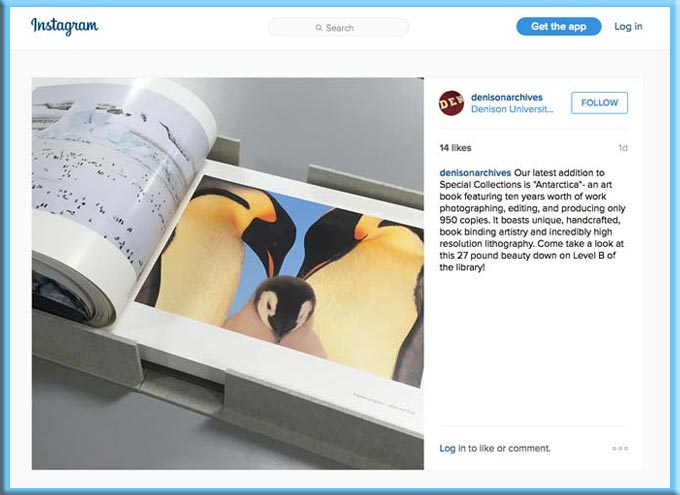 February 2016
The Keoughs' ANTARCTICA tome is appreciated on all seven continents, including Antarctica. During the past two austral summers and on-going, the Keoughs' opus is enjoyed by guests of White Desert Antarctica. This luxurious, adventure company exclusively offers bespoke Antarctic experiences to the rarely visited interior of Antarctica and to an Emperor Penguin colony located not far from White Desert's Whichaway Camp in Dronning Maud Land (the African side of Antarctica). Here's two photos of White Desert's facilities. The Keough tome is front and centre in the camp lounge.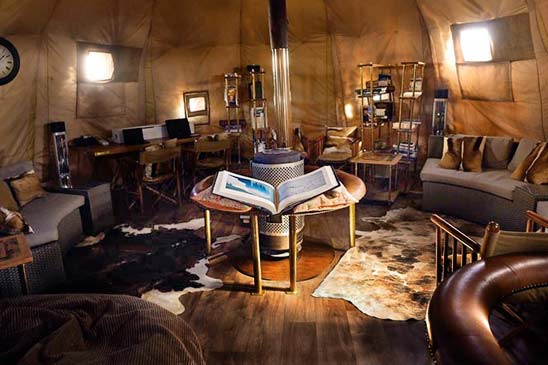 Keoughs' ANTARCTICA as displayed on the Antarctic Continent at Which Away Camp
Photo Credit: Martin Hartley, White Desert Antarctica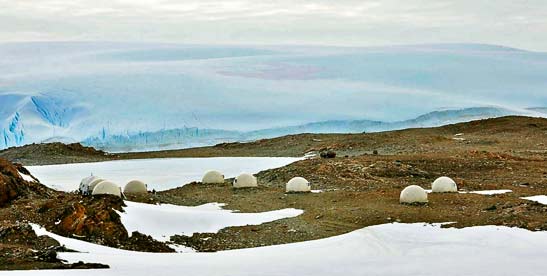 Which Away Camp, Dronning Maud Land, Antarctica
Photo Credit: Martin Hartley, White Desert Antarctica
November 2015
Uwe Mummenhoff, art collector, has been in the photographic business since 1955. Having built a worldwide company involved with photography he has met many of the world's finest photographers and is well familiar with their work. In the short movie presented here, Uwe speaks about Pat and Rosemarie Keough and their tome ANTARCTICA.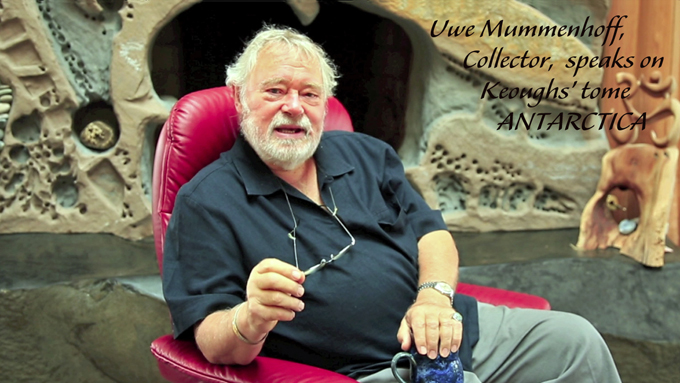 Click to Play Video. Uwe concludes, "Would you believe, if you keep this book to the end of your living days, and then you pass it on, and then your children, they will pass it on. This book will be there for another two hundred to three hundred years. Yes, it has a certain cost, but in terms of what this book gives to you, your loved ones, it is not in relationship at all. It's something you are investing in on the one hand, but it is a gift to you and to all the people around you."


August 2015
ANTARCTICA #574/950 was presented to the Canadian Museum of Natural History on behalf of Students On Ice (SOI) by SOI founder Geoff Green and Pat & Rosemarie Keough. Autographed by HSH Prince Albert II of Monaco (SOI Foundation Chair), Geoff Green, and by the 200 students and staff of the SOI 2015 Arctic Expedition, this dedicated volume embodies the spirit of SOI to "Connect the Poles" through educational programs. The Keoughs were among the professionals who shared their knowledge with students.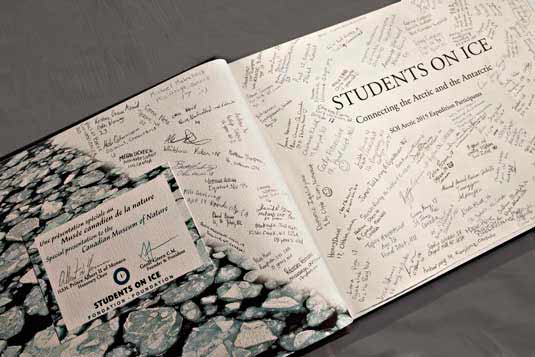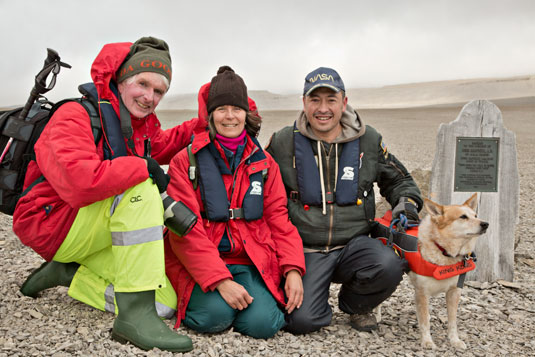 July-August 2015
Pat & Rosemarie Keough contributed their skills to the Students On Ice 2015 Arctic Expedition. Over a hundred students from as far as China and Rwanda, and as near as Greenland and Arctic Canada, joined a talented staff of botanists, ornithologists, historians, geologists, artists, authors, musicians on a journey of discovery to Greenland and Canada's Northwest Passage. The Keoughs are photographed below with planetary scientist Pascal Lee and his polar bear dog, King Kong, at one of the Franklin Expedition graves on Beechey Island. Following the SOI expedition, Pascal and King Kong were headed to nearby Devon Island to continue field research at NASA's Haughton-Mars Project.
February 2015
Pat and Rosemarie Keough enjoyed an entire austral summer in Antarctica presenting a full program on the Art of Photography to Guests of the luxurious M/V SEABOURN QUEST, several of whom took the opportunity to become collectors of the Keoughs' tomes and photography.

November 2014
Blouin Art+Auction, the prestigious international magazine for art collectors, acclaimed ANTARCTICA by Pat & Rosemarie Keough to be One of the Three Classics together with Ansel Adams's Sierra Nevada 1938; and Henri Cartier-Bresson's The Decisive Moment 1952. This distinction was foreshadowed four years ago by Abebooks.com, the largest on-line network of Antiquarian Book Dealers, which ranked ANTARCTICA among the Ten Most Collectible Photography Books of all Time.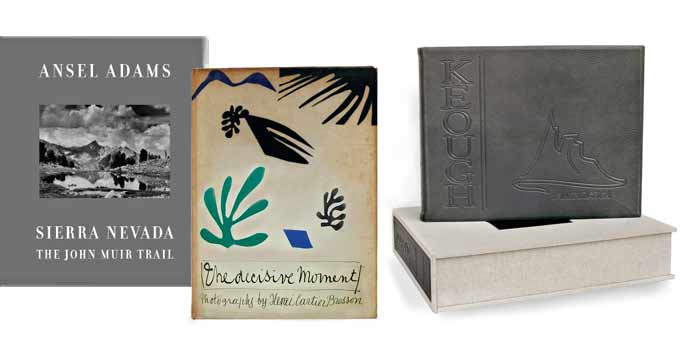 October 2014
The Aesthetics of Exploration, a lecture on how people are engaged and become involved through the power of imagery, was presented by Rosemarie Keough during the Women of Discovery Forum, hosted by Wings Worldquest at The Explorers Club, New York City. Rosemarie is a Fellow of Wings Worldquest, an organization whose mission is to celebrate and support extraordinary women explorers. Included in her lecture were observations from her Wings Flag #19 Expedition Report entitled: ANTARCTICA: Eye Witness, Impact of Tourism 2014 compared to 1999. A pdf copy of this report can be accessed here. During this inspired forum, 20 women shared their passion and research including Sylvia Earle, Mission Blue oceanography; Arita Baaijens, Dutch desert explorer and biologist; Felicity Aston, British polar explorer, physicist and meteorologist; Daphne Soares, Brazilian neurocologist and cave diver (all in the name of research); Gladys Kamema-Zikusoka, Ugandan veterinarian, gorilla expert.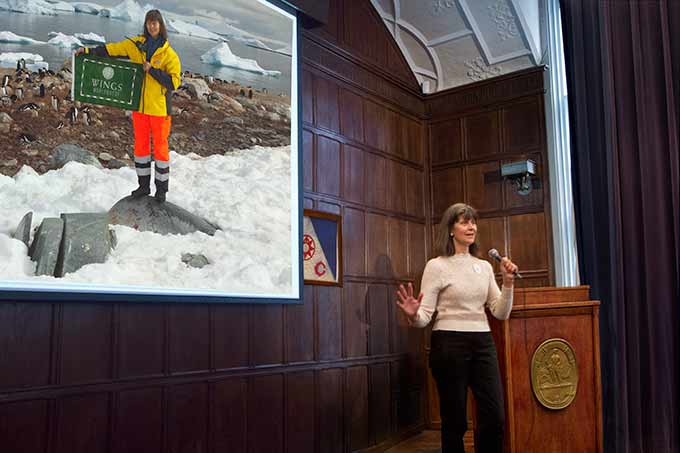 April 2014
A presentation is made to His Serene Highness Prince Albert II of Monaco, Honorary Chair of the Students on Ice Foundation, by Geoff Green, Founder, Students on Ice, at the Prince's palace in Monte Carlo during the Annual Students on Ice event. The presentation gift is a specially dedicated copy of ANTARCTICA by Pat & Rosemarie Keough. The event, hosted by the Prince Albert II Foundation, was attended by over 400 youth, including several SOI alumni, and many special guests. Students on Ice is an award-winning organization offering unique educational expeditions to the Antarctic and Arctic. The Keoughs are very pleased to be associated with this organization whose mandate is to "provide students, educators and scientists from around the world with inspiring educational opportunities at the ends of the Earth, and, in doing so, help them foster a new understanding and respect for the planet."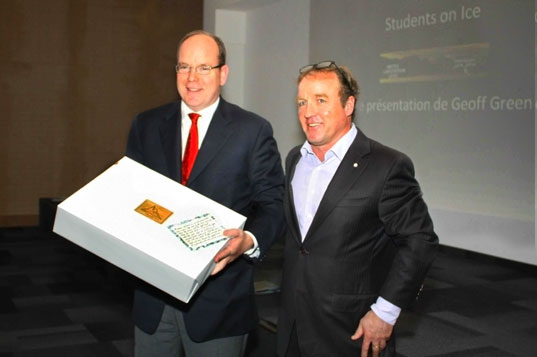 SOI Founder Geoff Green presents HSH Prince Albert II of Monaco with the Keoughs' ANTARCTICA
Photo Credit: Students on Ice
March 2014
The Explorers Club honours Pat and Rosemarie Keough with the Sweeney Medal in recognition of the couple's photography and outstanding contributions to the welfare and objectives of The Explorers Club. The Keoughs' acceptance speech and slide presentation were enjoyed by over 1100 people present in the ballroom of New York's Waldorf Astoria and also by 25,000 live-stream viewers on their computers! That evening The Explorers Medal was presented to Walter Musk, the world's greatest living oceanographer who founded the study of wave prediction during WWII for D-Day landings, and today, at 96 years of age, continues to inspire researchers at the Scripps Institute in California. Three additional merit awards pertaining to the theme of Exploration & Technology: Celebrating Innovation in Discovery were given to: Elon Musk for developing the technology to revolutionize both space exploration and sustainable transportation through his companies SpaceX and Tesla Motors; Jeff Bezos and the Bezos Apollo 11 Rocket Recovery Expedition Team, credited with locating and retrieving from depths of 14,000 feet off the Florida coast, the center F-1 engine from the Saturn S-IC rocket used to launch Apollo 11, and other Apollo F-1 rocket engines; and the Buzz Aldrin Quadrennial Space Award (presented by Buzz) was shared by astronaut Franklin Chang-Diaz – who served seven times at the International Space Station and on Earth has developed an engine that could take man to Mars in 39 days – and astrophysicist Maria Zuber – discoverer of a metal core at the centre of the moon, and developer of mapping techniques to study the surface and internal features of far-off planets and moons. Quite the evening and quite the company!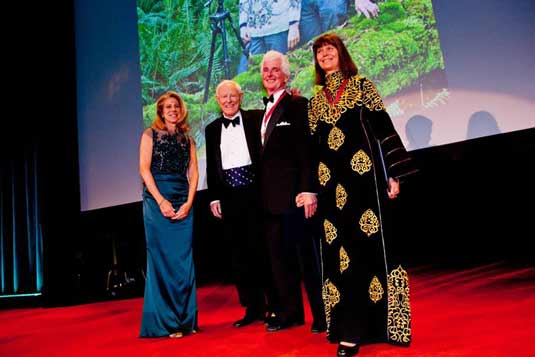 Constance DiFede, Chair Flag and Honors Committee; Alan Nichols, TEC President;
Pat and Rosemarie Keough. Sweeney Medalists. Photo Credit: Karin Zieff

February 2014
Pat and Rosemarie Keough returned to Antarctica and found the White Continent and the wildlife to be as exceptional as ever. The Keoughs lectured on the Art of Photography on two 21-day voyages aboard the luxurious M/V SEABOURN QUEST. The Keoughs' wrote of the experience: "What a wonderful world we live in to be Zodiac cruising amongst gleaming icebergs, penguins porpoising all around us, even smelling the breath of whales as they fed in a sea burnished by the setting Antarctic sun, and then to board our beautiful ship, SEABOURN QUEST upon which we were Expedition staff."