Keoughs release second book in collectors' series
By Elizabeth Nolan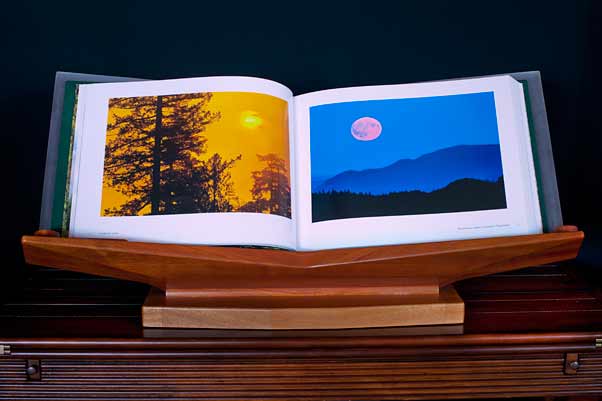 Pat and Rosemarie Keough, creators of one of the most celebrated books of modern times, have released the second in their series of high-end photography books with LABYRINTH SUBLIME: THE INSIDE PASSAGE.
The answer to a fine book collector's dream, LABYRINTH SUBLIME follows the same specifications as the multi-award winning Antarctica: the highest possible printing value in gorgeous full-page photos opening to a three-foot spread; the marriage of two antique bookbinding traditions in sumptuous materials; and limited, numbered tomes that come with a natural-linen presentation box fitted with velvet cushions.
Only 250 signed and numbered copies will be made, plus 26 lettered editions.
LABYRINTH SUBLIME has already won its first award, picking up the gold medal for Outstanding Book of the Year, Best Book Arts Craftsmanship at the Independent Publisher Book Awards last week.
Despite the $5,000 US price tag (add $2,500 US for a handcrafted, mahogany bookstand), Keough collectors are not just the extraordinarily rich. True, their books can be found in the homes of five royal families, but the pair also name a Salt Spring contractor and a retired electrician on the prairies among the subscribers who helped finance the second book.
"For us, what distinguishes our body of work is how we present it. We choose, at this stage in our life, to go for the very high end," Rosemarie said. "It's all passion. It doesn't make economic sense."
The award-winning photographers and filmmakers produced their first benchmark in bookbinding history after Pat was diagnosed with MS and Rosemarie with breast cancer — providing the encouragement they needed to best the frustrations they had experienced with their best-selling series of coffee table books.
"We had been doing these books and were working in the standard publishing industry — but as photographers what we're really interested in is the image, how it's presented and how it's produced," Rosemarie explained.
"We were always told we had to compromise," said Pat. "This need to compromise frustrated us and in about 1990 we started having this crazy idea about having the best book in the world."
Research into Renaissance-era books that still exist in fine shape today led the Keoughs to help develop a new hybrid method of bindery. The key to why old books lasted so long, they found, is leather covers and binding reinforced with linen slats. Felton Bookbinding in Georgetown, ON took on the project, eventually finding the way to combine the sturdy ledger book with the elegant finish of classic European binding style — which is normally meant for small books with narrow pages, not 20-pound behemoths. Producing Antarctica's edition of 950 took six years of binding and hand sewing to complete.
Creating the morocco leather cover was another challenge, as the art is now practiced by only two companies in the world. Goat skins sourced from the meat industry in Bangladesh and India are processed in Scotland by tanners J. Hewit and Sons, using a traditional nut found in the Andes. Imprinting the cover meant testing and retesting the brass die-casts for exact temperature and polish.
With the winning formula for the highest quality photographic book in the world in hand, the Keoughs took on the labyrinth of islands and waterways stretching from Seattle to Skagway for the second of their Explorer series. The Broughton Archipelago's natural maze makes up the imprinted cover image, while images inside fall under three basic geographic areas: the Salish Sea, the Great Bear Rainforest and the Tongass National Forest.
Seattle skyscrapers, ghost towns, junk boats and terminal machinery have their place alongside spirit bears, wolves, icebergs and rainforests in 340 images selected from the Keoughs' massive collection of wildlife, nature, industry and people.
"I don't know of any other fjord system with such cultural and natural diversity," said Pat. "It's a great coast and it's worth celebrating."
Within the basic geographic areas, photo arrangements were made according to what made artistic sense. Each spread features a single photo on a page, and each pair is linked through theme, compositional elements or colour. The Keoughs compose and work on each shot together, perfecting it bit by bit on the tripod. There is no individual authorship, which is why the books say just Keough on the cover.
To ensure quality, the Keoughs spent six months hand-checking every page of every book. No minute flaws — a scratch in the paper, or a fold a millimeter out of place — were allowed to pass. Neither were the drops of blood they found on the same page of several editions, evidence one of the [lithographers] had suffered a paper cut.
Because there are a limited number of books printed, each photograph is itself a limited edition print.
"In an age when almost everything is hard to put your hands on, these books will be here 100 or 200 years from now, and there are people who still value things that have been well-crafted," said Pat, while Rosemarie observed, "For what it costs it's really not different from what you'd pay for an original painting. And this is an original artwork, like you'd find in a gallery."