Husband-and-wife photographers discuss photos from their collection of inspiring, uplifting images featured in their latest work
By Stephanie Hounsell
"The nets hang like ghostly shrouds," says photographer Pat Keough, describing the scene at an abandoned fish cannery near Bella Coola, BC.
Speaking with his wife and fellow photographer, Rosemarie, Pat describes how seeing those nets, with their slowly-rotting ropes, transported them to the early 1900s when fishermen would sail in to the cannery with their daily hauls.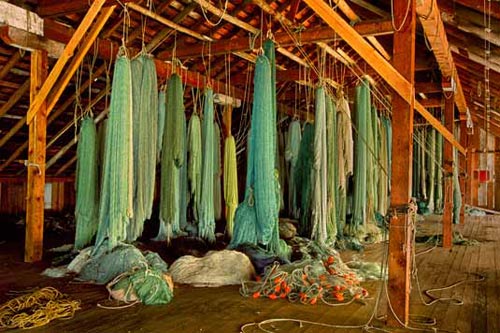 But in the 1930s, the men hung up their nets for the last time in one of the net lofts. "Many of the fishermen never returned. They went off to war, they died, and they never came back. The whole world changed overnight, you might say," Pat says. Adds Rosemarie: "It's such a poignant reminder of the men who lived and worked here and fed their families."
The Keoughs were so moved by the scene, they devoted a good chunk of time to taking photos that would capture that emotion.
Beauty and poignancy go hand in hand for this BC-based couple, who've been married for 27 years and worked together as professional photographers for 26.
"We love to celebrate beauty — the aesthetics of man and nature," Rosemarie says.
They've authored eight books — six coffee table books and two monumental, limited-edition tomes: ANTARCTICA and, most recently, LABYRINTH SUBLIME: THE INSIDE PASSAGE (in which their photos of the old cannery appear). The latter are intricately-crafted, hand-bound books that have garnered attention from around the world.
It seems the Keoughs have the unique ability to see beauty nearly everywhere. They're drawn to scenes that other photographers would most certainly pass by.
In Labyrinth Sublime, there's a photo they call Bella Coola Bob, which depicts a man manoeuvring his tugboat, Monarch II. It's a rather regal name for the messy little boat.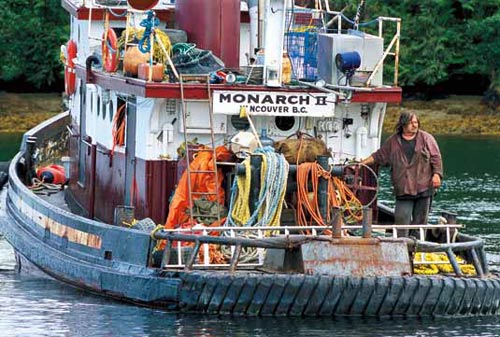 It's obvious by the Keoughs's collection of images that there are many sorts of beauty. They captured the more dangerous side of nature in a photo (also appearing in LABYRINTH SUBLIME) of Lituya Bay on the Alaskan coast, presided over by the majestic, snowy Lituya Mountain. In 1958, Pat explains, the side of Lituya Mountain plunged into the bay, generating a tidal wave of over 1,600 feet — the world's largest recorded tsunami. With this in mind, the Keoughs set out to get their photograph from a small plane. "We wanted to capture part of Lituya Mountain and the bay beyond with the Gulf of Alaska past it, and we got quite a lovely shot of that."