The glistening trail of a banana slug on arbutus bark. The chipped paint of a weary fishing boat. A red and white fire hydrant poking out of a flooded farm field. The neat demarcation of the silty Fraser River freshet against the deep-blue Pacific.

Photographers Pat and Rosemarie Keough take simple, familiar and overlooked images and transform them into something extraordinary.

The Saltspring Island Couple and Explorers Club members also bring you images from West Coast places you might not other otherwise go.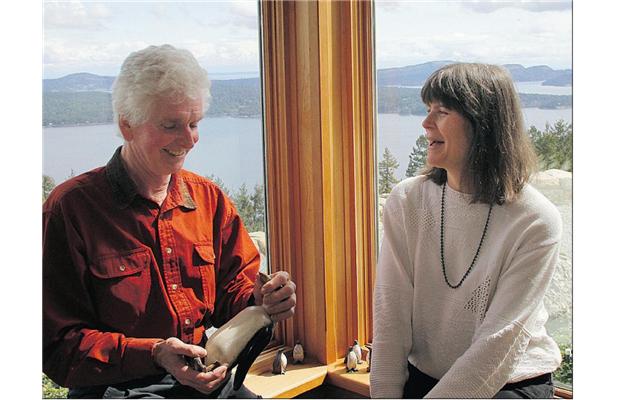 A lone sailboat lost in the mists and mountains of Fitz Hugh Sound. Salmon smoking at an autumn aboriginal fish camp on Douglas Channel. The unloading of a catch of Dungeness crab at the Prince Rupert docks. The ghostly spouts of eight humpback whales feeding off Admiralty Island.

"On that day, we saw 50 of them," Pat said.

Labyrinth Sublime: The Inside Passage is the Keoughs' latest tome, 340 images taken over almost 20 years, on mostly 35-millimetre film, along the coasts of Washington State, B.C., and southeast Alaska.

"At first, we didn't feel digital had the quality we were looking for," Rosemarie said. "Now we've completely switched over."

One of just three digital images in the book is from the perspective of a commercial passenger jet flying over Vancouver. It puts the city in its setting, surrounded by a labyrinth of islands, passageways and emerald forests.

As if the images are not remarkable enough, ah, there is the book itself.

Pull up a chair.

The Keoughs employed J. Hewit and Sons Ltd., a seventh-generation Scottish tannery whose list of satisfied customers include Britain's Royal Family. They used the highest quality vegetable-tanned morocco goat leather for the cover, "It's a dying art," Pat said. "It may not exist in another generation or two."

Friesens Corp., a Mennonite business based in Altona, Man., handled the printing on heavy 100-pound cover-weight paper.

Felton Bookbinding Ltd., of Georgetown, Ont., hand sewed the book together and used a luxurious green French flocked velvet for the inner binding.

The book consists of 344 pages, weighs 19 pounds, and is so professionally and painstakingly produced that you can shake it like a rag without fear of it breaking apart.

"We wanted something of lasting value," Pat explained. "If looked after carefully, it could be here in 1,000 years."

This kind of photography and craftsmanship doesn't come cheap.

Each book costs $5000 US and is limited to 250 signed and numbered copies, including a presentation box. Toss in another $2,500 for a handcrafted, mahogany book stand.

Labyrinth Sublime has already won two international awards: gold for best book arts craftsmanship at the Independent Publisher Book Awards, and gold for fine edition books at the Gold Ink Awards, considered the industry's most prestigious competition.

Never far from their next adventure, the Keoughs seem to move through life with a full sail

They are already researching the third volume in their Explorer series on the Arctic (the inaugural Antarctica, was released in 2002), having just returned from a six-week trip on the exclusive cruise ship, The World, transiting the Northwest Passage.

They have also photographed in Greenland and Siberia, and hope to travel in future to the Scandinavian Arctic, northern Russia, and the Chukchi Sea between Russia and Alaska. Says Pat with understatement: "We're slowly filling in the holes."