October 20th though December 31, 2007

COLLECTED WORKS: A PUBLIC LEGACY

The Toronto Reference Library celebrates its 30th year located at 789 Yonge Street. To mark this occasion, the library hosts a major exhibition selected from the cultural legacy collected on behalf of the public starting in the late nineteenth century with the opening of Toronto's first public library.

Pat and Rosemarie Keoughs' tome ANTARCTICA is chosen by exhibit curators to be displayed open to a portrait of a Wandering Albatross and the facing image of a soaring Southern Giant Petrel. The tome is exhibited in association with original Audubon prints.


Toronto Reference Library writes:

ANTARCTICA: This unique book is a modern variation in the tradition of wildlife art made famous by John James Audubon. Its use of advanced print technology captures subtleties of colour, just as Audubon and Havell refined aquatint printmaking to control tonal variations. The official unveiling of Antarctica was held during the Save the Albatross reception hosted by H.R.H. Prince Charles at St. James's Palace London. more ➡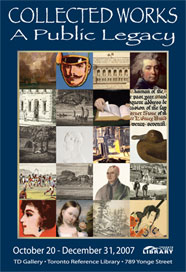 Pat and Rosemarie Keough extend a special note of apprecation to: Carol Barbour, Gallery and Exhibits Curator, Special Collections, Toronto Reference Library; and David Bishop, Board Member, Toronto Public Library.