Passion for Excellence
Keough Update #26: LABYRINTH SUBLIME

Presentation Boxes, Approval to Proceed — September 6, 2011
Greetings Everyone
Earlier today we gave approval to Friesens to proceed with the production of our sturdy clam-shell boxes, these being the linen-and-velvet presentation boxes custom-made to snugly fit LABYRINTH SUBLIME.
You may recall the following photo shared with you in mid-April: Jody Penner, Suzanne Klippenstein and Stan Bergen of Friesens Specialty Packaging department holding the first of several prototypes Suzanne personally has made over these past months for our project.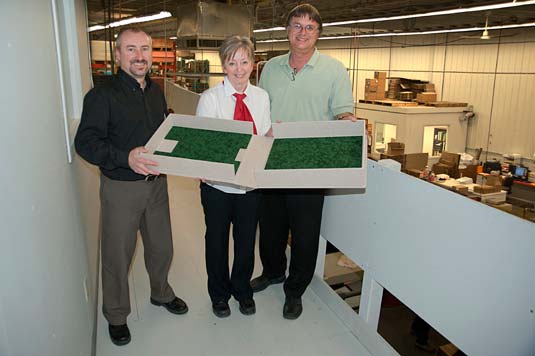 The objective from the outset has been to match ANTARCTICA's presentation box in dimension, solidity, materials and quality, and were there a way to increase strength, to do so. ANTARCTICA's boxes were hand-crafted by our binders at Felton Bookbinding. This time around, we thought to increase the manpower dedicated to LABYRINTH SUBLIME with the idea to have finished books packaged and ready to ship sooner than otherwise. To allow Felton to concentrate on the binding of LABYRINTH SUBLIME, we engaged Friesens to create the presentation boxes. We are indebted to Keith Felton for his generosity in lending advice to Friesens, including that which could be considered as trade-secrets. We are grateful for the determination of Friesens to go beyond their normal standard of excellence. With each subsequent prototype, Friesens has zeroed in upon the strict specifications and quality that we require.
As of today all outstanding issues have been addressed to our mutual satisfaction. Friesens has our "go ahead" and is ordering various jigs which will aid Suzanne during the assembly of the boxes. Suzanne, with two helpers, will begin making the boxes as soon as these jigs are received. Although Friesens has decades of experience making speciality boxes for books, our presentation box represents uncharted territory for the firm. As such Jody cannot say how quickly the boxes can be made. To start with, he estimates with three people working full time that five boxes per week can be accomplished. Yes, just five .... our boxes being quite complex despite their simple, elegant appearance. We all hope once production is underway that there will be opportunity for efficiency as a learning curve kicks in.
One of the next emails will share photos and detail of the making of the linen-and-velvet boxes at Friesens.
Warm wishes,
Rosemarie and Pat