ANECDOTES
Adventurous Dreams, Adventurous Lives

The Aesthetics of Exploration — October 2007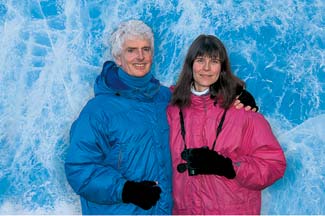 In the frigid field shooting their landmark ANTARCTICA
" For the two of us, exploration stimulates and satisfies a lifelong need for discovery,
challenge and accomplishment. The explorer is one who is driven to search out the unknown.
Some bring back dinosaur bones, knowledge of a lost culture, or a moon rock.
Others bring back artistic impression of our natural and human heritage. "
A full-blown Antarctic blizzard, a colony of 4,000 snow-shrouded Emperor penguins, and we're lying prone on the frozen Weddell Sea with our cameras at the ready. Not content to document the scene and head back to the relative safety of our tent, we spend hours actively watching, while slowly stiffening, alert for the convergence of visual relationships that satisfies our artistic instincts. We are a husband-and-wife team of photographers and private press publishers. Antarctica, our 27-pound, photographic tome occupied us a decade. This handcrafted book, recipient of 21 prestigious awards for the world's best this and the world's best that, is considered among the finest art books created in modern times. Prince Charles hosted its unveiling at St. James' Palace during the launch of the Save the Albatross Campaign — beneficiary of all net proceeds. The connection is that the stormy seas encircling Antarctica is the realm of the world's largest seabirds, the Royal and Wandering albatrosses.

The dream of becoming explorers began early. You might say we were already explorers of sorts while still children.

Rosemarie's dream: Back in the early 1960s when society was relaxed about youngsters playing sans parental supervision, I would disappear with my friends into a world of nature and make-believe. Our home was on the outer fringes of London, Ontario, where our backyard abutted a derelict farm. At four, I was already leading expeditions through trackless meadow grasses. My romantic memory recalls the dense vegetation rising above our heads and being wary of imagined tigers. Our destination was a mature woodlot, set like an island in the midst of a grassy ocean. In the cool, shaded depths of these woods, rich with ferns, flowers, towering trees and tangles of hanging vines I became an explorer.

Fast forward to when I was 16 and studying in Europe. The transition from snapshot photographer to art photographer came that spring as I delighted in creating images of flower blossoms during a freak blizzard. To this day I enjoy exploring and photographing anywhere in the world, yet I find that it is in association with nature and wild places that my soul is nourished.

Pat's dream: I grew up with nature close at hand. Perhaps I was attracted to the outdoors because, being the eldest of eleven, our small family home was always crammed with demanding babies, mostly girls. Money was scarce and while we didn't have television, we had scads of National Geographics, old and new, which fuelled my dreams of exploring far-off places. That fabulous photograph of Thor Heyerdahl's Kon Tiki (with The Explorers Club flag on the mast) riding a rough sea is burned into my memory, epitomizing adventure, daring and exploration of the fabled South Seas.

At age nine, a buddy and I "borrowed" an old, pump handcar and ventured along a disused rail line far into the countryside. By 14, I had a great time working summers deep underground, mucking ore in the gold mines of northern Ontario. Still in my teens, I saved just enough money to fly one-way to Australia. There, in the remoteness of the Great Sandy Desert, I saw an Aborigine holding a spear, poised on one leg atop a blood-red sand dune. My Instamatic camera failed miserably to capture the moment — but that indelible image sparked my passion for photography. On the next trip to Perth, I bought my first 35mm camera. Later, on Norfolk Island, I helped friends build a trimaran and — with Kon Tiki dreams of the South Seas — set sail. Having survived awesome storms in the Roaring Forties and Furious Fifties, we explored the South Pacific, living off the bounty of the sea and landing in places like the Marquesas, the Tuamotus, the Australs, Rapa Ita and many other remote islands. Not infrequently, we were the only Caucasians that the islanders had seen in decades. Documenting this journey was my first serious photography.

Our Story: The turning point in our lives happened in 1984 with our chance meeting on a white water canoeing expedition down Canada's legendary South Nahanni river. Paddling the same canoe for a month, we never once overturned in 540 kilometres of wild water, nor did we ever feel tempted to bat our partner with a paddle, which speaks volumes about respect and communication while under pressure. The chemistry was strong and we married four months later.

While honeymooning in the Periyar jungle of southern India, camped alone in an abandoned observation tower surrounded by a dry moat so wild elephants wouldn't knock it over, we photographed pachyderms and gaur by day; and, as the sun set, dreamed about how to continue this wonderful lifestyle together. Both of us, at that time, were managers in the corporate world with shared passions for photography and exploration. To realize the dream, we decided to produce books of our photographs — in spite of being totally naive regarding the challenging world of publishing!

For the next two years, Pat continued to manage operations in the gas industry, a career in which he started as a roughneck and then a tool pusher on oil rigs two decades before. Rosemarie, a former finance manager, marketed our images and wrote articles, while working towards self-publishing our first coffee-table photography book which showcased the natural beauty of the Ottawa Valley, our then home. This book became a bestseller. Shortly thereafter we returned to the Nahanni, hiked 2,000 kilometres, and ran most of the rivers shooting photos for our second book, and also film for a feature television special.

Our subsequent photographic expeditions — from Sable Island, Nova Scotia realm of wild horses, seals, and shipwrecks; to Antarctica, the Great White Continent — are the means to spending long periods of time in parts of the world that interest us. By virtue of being in the field, we are occasionally the first to record and report something of unusual interest, such as certain karst features in Canada's sub-arctic, or specific killer whale behaviour in the Ross Sea. While curious about all that we experience, we are dedicated to taking evocative photographs of the regions we explore. Our photos tend to portray the familiar in an unusual way; for example, splatters of penguin excrement rendered through our lenses as abstract art. We're good at what we do because we inspire one another constantly, and also because we love each other so much that we view the world through a veil of confidence and happiness. This beauty from within is transferred to all we create.

* * * * * * * * * * * * * * * * * *
PAT and ROSEMARIE KEOUGH live on Salt Spring Island, British Columbia. They are Cherry Kearton Medalists of the Royal Geographical Society. They have published seven books, directed or appeared in several films, and are currently working on future volumes in their Explorer Series of luxurious books. The inaugural volume in this series is ANTARCTICA for which international publishing, graphic arts, printing and photography societies have bestowed ten international gold awards, one silver, and a further ten Canadian honours. Distinctions include World's Best Photography Book 2003, International Nature Photographer for the Year, Outstanding Book of the Year, Best Book Arts Craftsmanship, Gold Ink Award Fine Edition Books, and the Craft Art Science Award. Reviews and articles about ANTARCTICA have appeared worldwide. The many institutional collectors of ANTARCTICA include Yale and Brown universities, the Japanese National Institute of Polar Research, and the Chrysler Art and British Natural History museums. Their latest tome is LABYRINTH SUBLIME: THE INSIDE PASSAGE, Volume 2 in the Explorer Series of ultra-luxurious limited-editions.
Pat was born in 1945 in Vancouver and Rosemarie in 1959 in London, Canada. Rebekka, their daughter, is in university and has bicycled 8,000 km across Canada. Their son Glen accompanies his parents on most expeditions, including the Antarctic. Pat's father also carried the exploration gene. As Canada's eldest active pilot at 94, he was in the air at the controls of his Citabria every fine day until just four months before taking greater flight.
(Text excerpt from Jason Schoonover's book: Adventurous Dreams, Adventurous Lives)

Top | Index | NEXT STORY