COLLECTIONS
Pat & Rosemarie Keough's LABYRINTH SUBLIME and ANTARCTICA are primarily collected by individuals worldwide, including Royalty from eight nations. Nearly 100 libraries, universities, museums, and institutions have acquired one or both of these volumes.
Australia
State Library of New South Wales
State Library of Victoria
University of Melbourne
Canada
National Library of Canada
Salt Spring Island Public Library
Toronto Public Library
The Banff Centre Library
Emily Carr University of the Arts
The Gordon Smith Gallery of Canadian Art University of Alberta
University of British Columbia
University of Manitoba
University of Victoria
York University
Lester B Pearson College
Canadian Museum of Nature
Japan
National Institute of Polar Research
Malaysia
Sultan Mizan Antarctic Research Foundation
New Zealand
Auckland City Library
University of Auckland
Canterbury Museum
United Kingdom
The Natural History Museum
National Library of Scotland
United States of America
Chrysler Museum of Art
Museum of Fine Art, Houston
The Grolier Club, New York
Library of Congress
The Huntington Library, San Marino California
Newberry Library, Chicago
Phoenix Public Library
Washington State Library
Brown University
University of Southern California
Claremont College
University of Colorado at Boulder
Davidson College
Denison University
University of Georgia
Hamilton College
Hillsdale College
University of Iowa
Kenyon College
Lafayette College
Louisiana State University
North Carolina State University
University of Oregon
University of Texas
University of Washington
Wellesley College
Western Washington University
Yale University
SCAR National Antarctic Research Programs:
Argentina, Australia, Austria, Belgium, Brazil, Bulgaria, Canada, Chile, China, Colombia, Czech Republic, Denmark, Ecaudor, Finland, France, Germany, India, Iran, Italy, Japan, Korea (ROK), Malaysia, Monaco, Netherlands, New Zealand, Norway, Pakistan, Peru, Poland, Portugal, Romania, Russia, South Africa, Spain, Sweden, Switzerland, Thailand, Turkey, Unitied Kingdom, Ukraine, Uruguay, USA, Venezuela.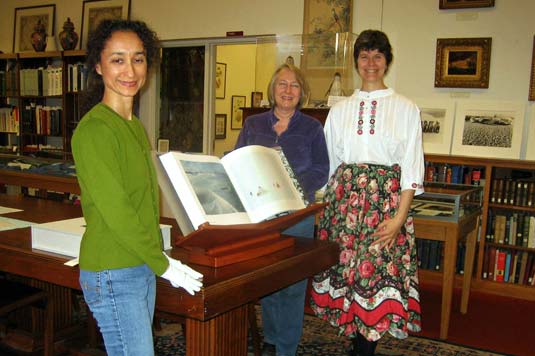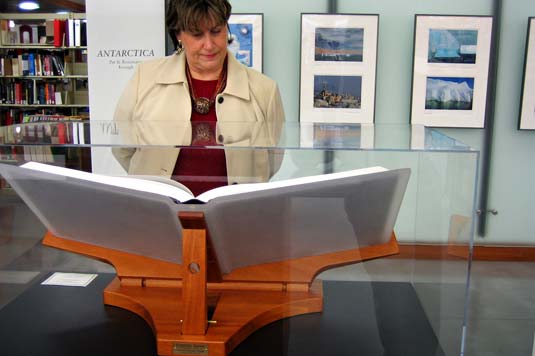 " I regularly feature the Keoughs' ANTARCTICA when photo-related classes
  come to our library and it remains a title that piques the interest of students
and faculty alike." Jon Evans — Director, Hirsch Library
Museum of Fine Arts, Houston
" Exhilarating. A remarkable piece of art. I never before realized
the color of Antarctica. " Roy Flukinger — Senior Curator
Harry Ransom Humanities Research Center,
University of Texas
" Rosemarie and Pat put so much love and care into this book. It shows in
every page that we turn. It is one of the finest new books we've ever bought. " Christine Vincent — Special Collections Librarian
University of Colorado at Boulder
" I love to show ANTARCTICA to students and faculty and watch their jaws drop.
Then I explain what went into the making of this book — artistic vision, technical
quality, production values and painstaking attention to every detail — and watch
their jaws drop even farther. It's an absolutely stunning addition to our growing
Artists' Books Collection. " Diane Shaw — Special Collections Librarian
Lafayette College
" At Yale University, ANTARCTICA is permanently on display in the Arts of the
Book Collection and this piece catches the attention of everyone who walks
in to the reading room. This work is the perfect start to a conversation about what
a book can be and how a well designed and constructed book can add to the
knowledge inside it. Every aspect of ANTARCTICA is well done and worth
consideration, from the physical construction, to the layout, to the photography,
which gives me many possible ways this book can help with our educational mission.
With this one work, I can connect with graduate students from the School of Art,
as well as undergraduates in the humanities and the sciences. The beauty of the book
draws in the students, and the durability allows me to feel free to use it again
and again without worrying about its fragility. "
Jae Rossman — Special Collections Librarian
Arts Library, Yale University
" ANTARCTICA by Rosemarie and Pat Keough exceeds all expectations, in the
quality of the photographs, and in the material used for printing and binding.
The book is a work of art for exhibition in museums and libraries!
ANTARCTICA por Rosemarie and Pat Keough excede todas as expectativas,
tanto na qualidade das photographies, no material usado para impressão e
encadernação. Um livro e uma obra de arte para exposição em museus
e bibliotecas! "
Dr. Jefferson Cardia Simões Vice-President, (SCAR/ICSU)
Brazilian Antarctic Programme. Centro Polar e Climático
Instituto de Geociências, Universidade Federal do Rio Grande do Sul